TURISSAM MED is a Health, Tourism and Hospitality specialized agency that facilitates and provides services such as: land transfers, lodging, among others. During your stay you will be provided by an excellent medical attention with an employ network of doctors, clinics, and hospitals that offer competitive prices in medical processes. We are specialized in hispanic patients who search medical attention in Mexico.
Patients search medical attention on this network, they  would benefit in having access and hire doctors, clinics directly and certified hospitals accredited by Mexican Authorities. 
Our personnel and staff are aware about giving  you wonderful attention, they know you are here because of your health and giving you the opportunity to know our touristic programs approved by your doctor.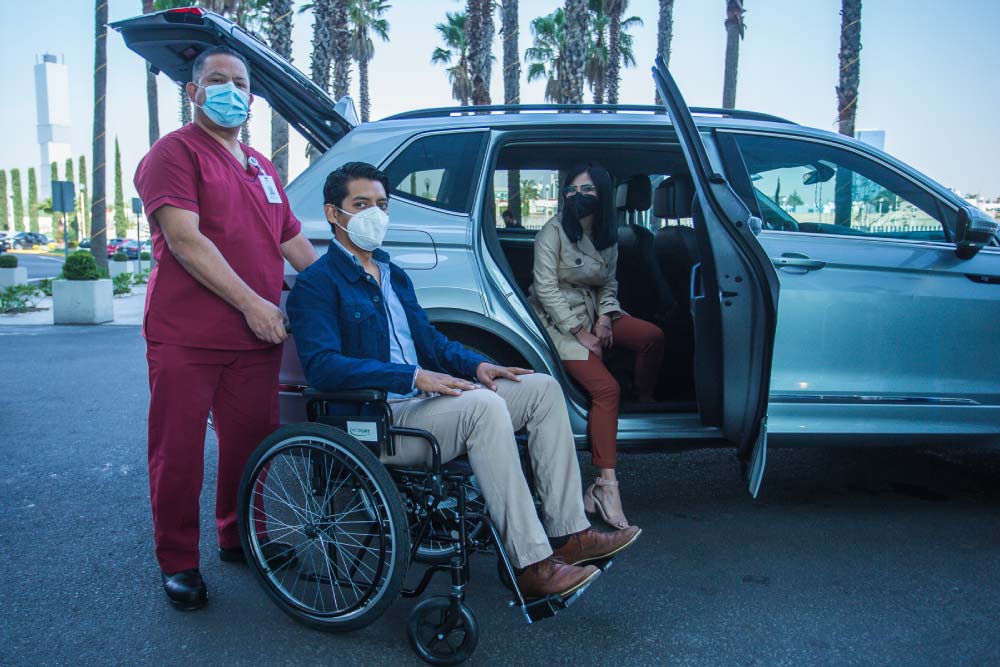 Benefits of being part of TURISSAM MED in Puebla:
Joint Replacement
Oncology center
Parkinson's Surgery
Hyperhidrosis and Sympathectomy
Plastic surgery
Spine Surgery
Bariatric surgery
Migraine Surgery
Robotic surgery
Cardiology
Joint Replacement
Their replacement with artificial joints, made of chrome, cobalt and titanium, along with high-density plastics.
The ends of the knee or hip joint are encased in metal components, and a medical-grade plastic implant is used to create the new cushion in the knee. It is the patient's own muscles and ligaments that provide the strength and stability to their new knee or hip.
This type of surgery is required when a person has a high degree of impaired function and shape of the knee or hip due to chronic and progressive joint disease (called gonarthrosis) or fractures, which are characterized by severe pain, stiffness, and joint deformity, limitation of movement and instability.
Numerous advances in surgical techniques, instrument development, surgical robotics, and implants have made hip and knee joint replacements highly successful procedures.
After surgery, patients return to a much more active life since the prosthesis eliminates pain and improves mobility.
Procedures
Oncology center
Parkinson's Surgery
Hyperhidrosis and Sympathectomy
Plastic surgery
Spine Surgery
Bariatric surgery
Migraine Surgery
Robotic surgery
Cardiology
How we minimize the risks in medical tourism
If you plan to travel to another country for medical care, consult your healthcare provider or travel medication provider at least 4 to 6 weeks before your trip to discuss general information for healthy travel and the specific risks you may face due to your health, your status, the procedure, and travel before and after the procedure.
Get international travel health insurance that covers medical evacuation back to The United States.
Before planning vacation activities, such as swimming or hiking, find out what activities are not allowed after the medical procedure.
Bring with you copies of your medical records, including lab test results and any other tests performed related to your condition and care.

Inform the medical staff at your destination of any allergies you may have.

Pack a travel kit with your prescription and over-the-counter medications.

Also, bring copies of all your prescriptions and a list of the medications you take, including brand names, generic names, manufacturers, and dosages.
Obtain copies of all your medical records from the destination before you return home. You may need to translate them into English.
Identify where you will be staying immediately after the medical procedure.
Before traveling abroad for medical tourism, make sure you can get the necessary follow-up care in the United States.
*Center for disease control and prevention (CDC): https://wwwnc.cdc.gov/travel/page/medical-tourism
Tell us about what procedure you would like to have.
Request a free virtual consultation, the staff will assist you, just fill out this from:
Full name
Email
City
Medical procedure
Additional information
With this information, we finalize details prior to your consultation with a medical professional in Mexico.